Little resistance to maximise self consumption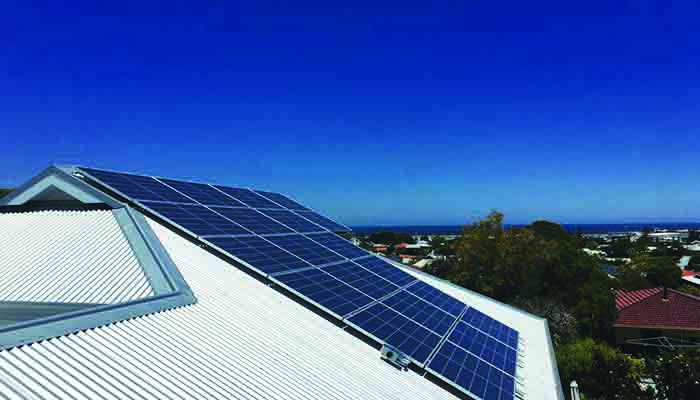 https://www.pv-magazine-australia.com/2019/05/27/little-resistance-to-maximise-self-consumption/
There's nothing high tech about resistance heating in the form of an immersion hot water element. But when added to rooftop solar PV, it can be a powerful way to maximise self consumption – when coupled with a smart control system.
Fremantle resident Jim Gibbons* has been on the odyssey of major home renovations for the last couple of years. Turning a weatherboard cottage just outside of the fast-gentrifying port city into a large and modern home suitable for his growing family, Gibbons has been through the range of trials and emotions common to anyone who has undertaken such a task and done much of the work himself. 
So when it came to getting a solar system, Gibbons wanted something simple, elegant and most of all efficient. His goal was to reduce dependency on the grid and cut his expanding power bills, while doing something to reduce his family's greenhouse gas emissions. In the first six months of operating his solar system, Jim has discovered at an immersion hot water heat controller and smart meter has delivered astonishingly high levels of self consumption from his 6 kW rooftop PV array. 
"Ah, I left the pool pump on too long this arvo," said Gibbons looking at his daily consumption and production profile when pv magazine Australia visited his home, some scaffolding still in place and much of the family's furniture still stored in a sea container on the front lawn. "I haven't put a timer on it [the pool pump] yet, but I will." 
And while there is much to optimise in terms of synchronising the household's power consumption to its solar output, the self consumption rates that have been achieved in the first six months of operation of the system have been impressive.
Solar immersion hot water
The 6 kW of Canadian Solar panels was installed in spring 2018. It was coupled with a SolarEdge 5 kW, three-phase inverter. The system was provided by Perth-based retailer Infinite Energy. Along with the PV system, a SolarEdge Modbus Energy Meter and an immersion heater controller was integrated, delivering both the insights required to optimise self consumption and self sufficiency, but also what looks like an important tool in realising these goals. The Gibbons' system was one of the first installations using the technology in Western Australia.
The SolarEdge immersion heater controller, officially called Smart Energy Hot Water, is hardly the most high-tech advice. But it has delivered pretty astoundingly high levels of self consumption across the first six months – between 80-90% on average and well over that on its best days. On some days, like on Saturday May 18 (chart below), self consumption of 99% is achieved. 
The concept behind the Immersion Heater Controller, which is wirelessly connected to the PV inverter, is simple: when there is insufficient electricity demand from the household and solar PV electricity would be exported to the grid, the SolarEdge inverter instructs the immersion heater to divert the power to a resistance heating element in the household's new hot water tank – effectively providing thermal energy storage. 
In an interview with pv magazine Australia earlier this year, SolarEdge Founder and VP of Marketing and Product Strategy, Lior Handelsman described the Smart Energy Hot Water system as a "cost efficient energy storage solution." Rather than an either/or, he says the system is "a complimentary solution [to battery storage]. 
"You can maximise the level of self consumption to some degree, but you can go even further when you couple hot water energy control with battery storage – they complement exactly what you need so you become more energy self sufficient," said Handelsman. 
In terms of the other major goal of the array, to reduce grid dependency, the results have been less stellar. In May, as of the 23/5, the system had produced 585 kWh, while the household consumed 1.76 MWh – perhaps a result of the power tools in frequent usage. The self sufficiency was around 30% for the month to date. 
Surely a limiting factor behind the self sufficiency rates is the 5 kW cap on grid-tied solar inverters, and therefore solar arrays, allowed by WA grid operator Western Power. These restrictions, predicated on the assumption that the ever increasing number of solar PV systems could flood and destabilise the grid. Clearly the SolarEdge system shows that exports can be severely limited if not entirely curtailed, and the value of the smart meter as demonstrating this is also evident. 
The daily solar output average for the solar system in May came in around 19.5 kWh, below the 21.1 kWh winter average quoted by Infinite Energy, but not far off. On May 18, the system far exceeded the prediction producing over 31 kWh. The summer average output as calculated by Infinite should come in at 34 kWh. 
As Gibbons freely admits, he has much to learn about how to best align power consumption to production. He likes the app-based monitoring, and finds himself "checking it too bloody often" throughout the day. That the Smart Energy Hot Water System is passive by design, meaning the switching occurs automatically – surely an asset given busy modern family life. 
WA's state-owned utility Synergy currently buys electricity off solar households for $0.0735 under its Renewable Energy Buyback Scheme.