Sprague Energy Installs Flexible Thin Film Solar Panels On Its Oil Storage Tanks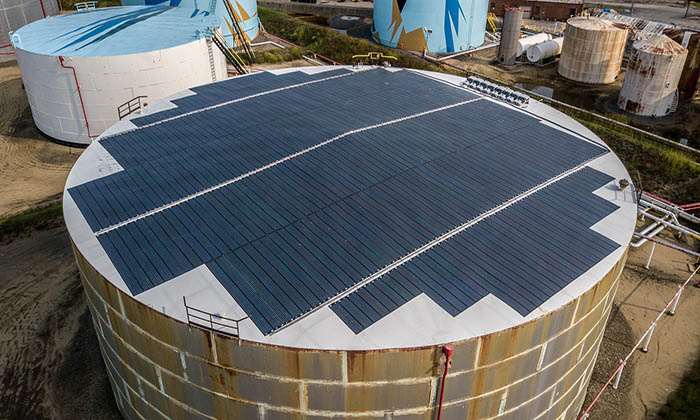 https://cleantechnica.com/2019/02/14/sprague-energy-installs-flexible-thin-film-solar-panels-on-its-oil-storage-tanks/
What do you do if you want solar panels to help power your business but all your assets are round with curved tops? If you are Sprague Energy, you allow Picktricity, a Massachusetts-based installer of flexible thin film solar panels to glue them to the top of your storage tanks. The first panels were installed in 2017 and the results have been so positive that Sprague Energy has signed up for more.
"We put the panels on a typical storage tank to see if we could use our existing assets to generate energy savings while enhancing our sustainability efforts," Jay Leduc, director of sustainability at Sprague, tells Renewable Energy magazine. "With the pilot project generating annual savings, we are excited to roll this out on many more of our tanks, and take advantage of greater savings and possible revenue generation."
The thin film panels weigh significantly less than conventional solar panels and do not require the complexity of a traditional racking system to install. "Sprague's proven ability to anticipate and stay ahead of market changes aligns exactly with our vision," says Kevin Maloney, founder and chief executive officer at Picktricity.
"They have the deep industry knowledge and relationships, and we have the solar installation expertise with best-in-class thin film solar technology. We're excited to collaborate to bring great opportunities for sustainability and electricity cost savings to the energy industry and beyond."
Sprague Energy is so pleased with the results of its thin film solar panel experiment, it is spreading the word to others in the industry. It may be in the fuel oil business but that hasn't kept it from recognizing the advantages of clean, renewable energy. Sprague and Picktricity are exploring a possible partnership to offer thin film technology to other terminal operators throughout the United States.
"Many of the options available allow terminal owners to receive power savings and environmental benefits without the requirement of capital investment," said David Glendon, president and chief executive officer at Sprague. "Throughout our history, we've enjoyed success adapting our products and services to the evolving energy needs of our customers. Sustainable energy solutions, whether they are adding biofuels or renewable diesel, supporting wind installations, or providing turnkey solar solutions, simply make sense."
Picktricity offers a full suite of solar solutions, including connecting customers to project financing options, which can minimize or eliminate the capital cost of the installation.
A random aside: I wonder if anyone has thought of gluing thin film solar panels to a conventional asphalt shingle roof? No racking system, just a commercial grade adhesive. Seems like it would lower installation costs significantly. Call me, Kevin Maloney. We need to talk.