FINANCIAL INNOVATION TO CATALYZE DECENTRALISED RENEWABLE ENERGY IN INDIA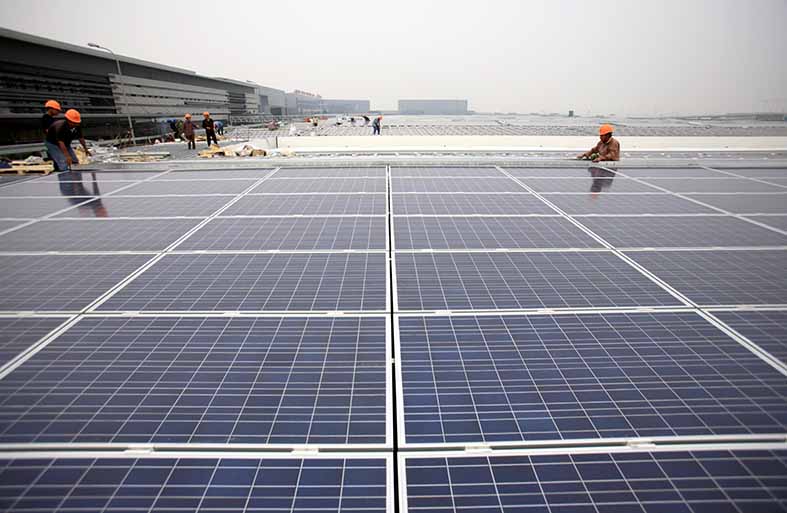 https://www.theclimategroup.org/news/financial-innovation-catalyze-decentralised-renewable-energy-india
Distributed Renewable Energy (DRE) powered solutions energize the lives of millions of people in rural India. These will remain key in addressing the critical challenge of access to reliable and affordable energy, while also mitigating climate change. Illustratively, according to a recent report by GOGLA, India remains the largest off-grid solar market in the cash segment with 1.3 million products sold in the first half of 2018. These DRE products contribute significantly to India's commitment to SDG 7 and broader climate action.
Although the first wave of DRE was fueled by a demand to meet basic lighting needs, DRE has now evolved to a point where it is fulfilling growing energy aspirations and powering livelihood opportunities in rural India. As per official statistics, nearly all unelectrified households have now been connected to the grid, and the remaining are energized through DRE solutions like solar lanterns, solar home lighting systems and micro/mini grids.
Despite rapid government-led electrification, millions of households in many pockets of the country still face power cuts and are not receiving electricity at the essential times. The next frontier of electrification for India – as championed by the newly elected government – is to guarantee uninterrupted and quality power to all households. This new focus is aligned with rising aspirations while seeking to meet positive development outcomes of income generation, improved health and education, and gender equality among others.
DRE offers a big opportunity to reinforce existing efforts of the government and the private sector. Supported by technological innovations, DRE is pivoting to livelihood-based solutions such as solar pumps, solar dryers, solar-powered micro cold storage and solar RO water purifiers. Although the trends within DRE are largely defined by innovation, these are also driven by a top-down push to meet bottom-up needs. For instance, as part of a government scheme Kisan Urja Suraksha evam Utthaan Mahabhiyan (KUSUM) 1.75 million standalone, off-grid solar pumps will be installed by 2022 to support farmers.
As DRE evolves, so has the need for capital requirements of both debt and equity. Achieving the full potential of DRE requires financial innovation to catch up with the emerging landscape. In this context, the India Initiative on DRE Financing (IIDF) – anchored by The Climate Group, in partnership with Goldman Sachs Center for Environmental Markets and cKinetics – focuses on innovating domestic financing for DRE in keeping with the latest market trends.
IIDF is a broad coalition of more than fifteen DRE champions with a common objective of addressing the debt needs of the sector. This coalition includes financiers and catalysts such as Climate Policy Initiative, Rural Electrification Corporation CSR, KfW German Development Bank, International Finance Corporation, Yes Bank, Maanaveeya Development Finance, ResponsAbility Investments, Clean Energy Access Network, Shakti Sustainable Energy Foundation and others.
IIDF surveyed the DRE structural and financing landscape to determine appropriate debt-oriented capital instruments. According to our analysis, enterprise and end-user financing needs for DRE solutions (solar pumps, SHS, lanterns, mini-grids, micro cold-storage and bulk milk chillers) present a near-term investment opportunity of around USD 2 billion by 2023 in India. Notably, short-term working capital stands out as a critical enterprise financing need owing to mandated DRE installations by government-led programs, foreseen to be deployed by small and medium entrepreneurs involving hundreds of others in the value chain. Our analysis suggests that working capital accounts for more than 80 per cent of the estimated financing needs of DRE enterprises of around USD 1 billion, coming largely from the solar pumping segment.
In light of this, IIDF is now deploying a targeted financing instrument in the form of a Working Capital Term Loan, aiming to enable DRE scale-up backed by government schemes as well as private initiatives. In doing so, the loan product will specifically solve the challenge of high-cost debt and collateral-based lending for enterprises. IIDF is now in the process of forging partnerships between commercial-scale banks, non-banking financial companies and debt-ready enterprises to facilitate this.
The partnerships are envisaged as entailing enhanced lending by non-banking financial companies (already active in the space) with  on-lending from commercial banks (not proactive thus far), opening the latter to an untapped market opportunity. Investments from commercial banks will be backed by a risk mitigation guarantee fund, potentially from funders looking to frame impact at scale through their clean energy strategy. The involvement of commercial Indian banks and the credit guarantee will give DRE enterprises access to much-needed, lower-cost working capital.
Ultimately, IIDF is putting a domestic investors' alliance into action – with mainstreamed engagement from commercial banks – to respond to the evolving DRE landscape. We anticipate exciting times ahead as we innovate broad-based financing for DRE-enabled clean energy access in India.