Trina Tests Half-Frame Solar Panels To Trim Cost By 2%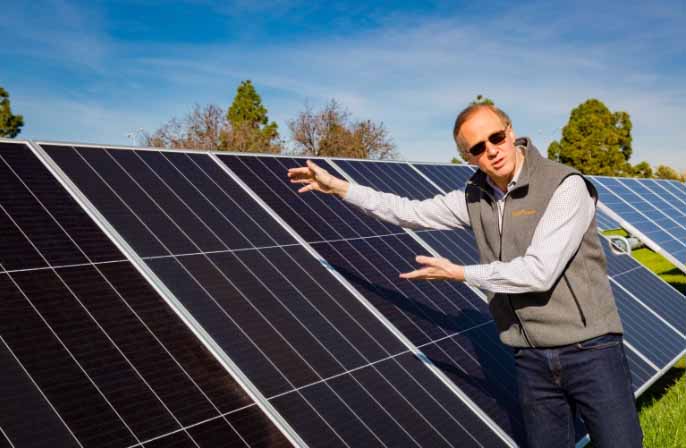 https://cleantechnica.com/2019/06/10/trina-tests-half-frame-solar-panels-to-trim-cost-by-2/
Trina Solar is now testing a half-frame solar panel for use with solar trackers with hopes to lower the cost per watt for solar by 1 cent or about 2% overall, said Steven Zhu, the president of the company's America Region, based in San Jose, in an interview Friday.
While field tests in China continue, the half-frame panel is under review by the Institute of Industrial Engineers for performance accreditation, a requirement for commercial acceptance. Zhu says he hopes the half-frame design will be commercially available next year.
Frameless solar panels cost less than panels with a frame, but are more difficult to clamp onto, especially if the racking structure is a tracker that moves in one or two directions. Some racking manufacturers have long dismissed frameless panels as a no-gain solution, since additional framing strength needs to accommodate the frameless panels securely.
The side-frame-only Trina design will still permit a tracker to clamp onto the frame edge to support the panel, while the top and bottom frame are eliminated for cost savings.
The elimination of the bottom frame section also will help eliminate some of the dust or snow accumulation on the bottom of the panel, where multiple cycles of temperature and humidity can transform the dust into a cementitious form that is difficult to remove.
The elimination of half the framing is not the only new technology design that Trina has up its sleeve. "The standard thickness for glass on solar panels is 2.5 millimeters, but we think we can use 2 mm effectively," says Zhu.
"Any small improvement in the solar industry now has a huge impact," says Zhu.
The panel improvements announcement came shortly after Trina announced a new world record for solar cell efficiency, at 24.58%, on a larger format panel, in late May. Trina's State Key Laboratory of PV Science and Technology of China set the new world record for a high-efficiency n-type mono-crystalline silicon (c-Si), or i-TOPCon solar cell, the company says.
The record-breaking bifacial solar cell was fabricated on a large 244.62 square centimeter wafer with a low-cost industrial process of advanced i-TOPCon (Industrial Tunnel Oxide Passivated Contact) technologies, having a front boron emitter and a rear full-area passivating contact, the company explains.
The bifacial solar cell reached a total-area front side efficiency of 24.58%, without using any dedicated aperture during the illumination. This result has been independently confirmed by the ISFH CalTeC in Germany. The bifacial gain from albedo capture on the back side of the panel can increase the total efficiency by another 10% to 20% depending on a host of field conditions.
"We are very delighted to announce the latest achievement from our research team at the SKL PVST, to the best of our knowledge, this is the new world record for a total area efficiency for a large-area two-side contact silicon solar cell," said Jifan Gao, the CEO of Trina Solar, in a statement.
In 2018, Trina shipped 9.1 gigawatts of solar panels, for an 8.9% global market share, or third place globally, according to GlobalData. JinkoSolar shipped 11.6 GW for a 12.8% market share and the leading global position, and JA Solar shipped 8.8 GW of panels for 9.7% market share and the second global position, the research group says.
While the US trade war over Chinese solar panels was raging, Trina built manufacturing plants in Thailand and Viet Nam, so none of the company's shipments to the United States are now from China, says Zhu.
Trina has a new lineup of solar panels for utility-scale projects at 415 Watts-peak and residential at 345 Wp. The new panels combining half-cut N-type and P-type cells, as well as multi busbar design and bifacial cell technology.
Trina Solar is the world leading PV and smart energy total solution provider, the company claims. Trina engages in PV products R &D; manufacture and sales; PV projects development; Engineering-Procurement-Construction, Operations & Maintenance; smart micro-grid and multi-energy complementary systems development and sales; as well as energy cloud-platform operation.
In 2018, Trina Solar launched energy Internet of Things (IoT) brand and the company is committed to becoming the leader of global smart energy industry. Aiming to establish an energy IoT ecosystem, Trina Solar initiated the Trina Energy IoT Industrial Development Alliance and New Energy IoT Industrial Innovation Center with worldwide leading enterprises and research institutes.