Flexible tiny house's straw walls are better insulators than brick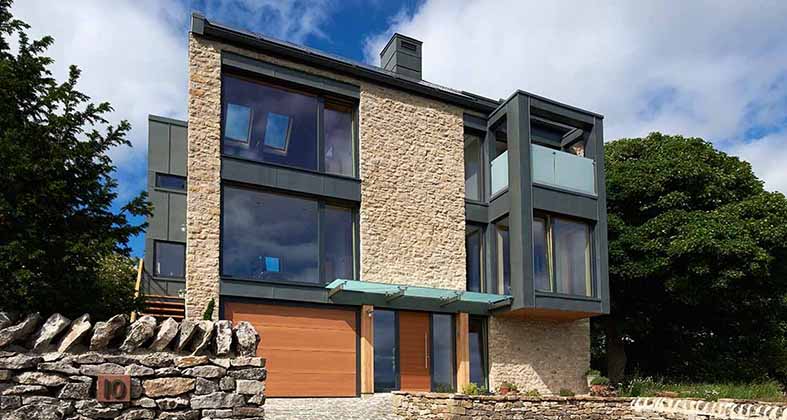 https://newatlas.com/s22-strawmodul-tiny-house/59960/
Russia's Strawmodul recently completed a prefabricated tiny house that's part-built from straw. The modular dwelling has enough space for two people as standard, but can be expanded too, and can also optionally run off-the-grid with solar power.
The S22 tiny house doesn't make use of hay bales, like some similar projectswe've seen, but was built using prefabricated panels consisting of straw pressed into a wooden frame. According to Strawmodul, this offers excellent insulation.
"The straw panel's thickness is 200 – 400 mm [7.8 – 15.7 in]," says the firm. "It exceeds heat-insulating indicators of wooden walls more than twice, brick walls more than three times. The heat loss corresponds with the European standard of Passive Houses."
The model shown is Strawmodul's first tiny house and was installed in Crimea, though the firm is now working on three more. It's raised roughly 6 m (20 ft) above the ground on stilts due to the steep hillside plot and has a total floorspace of 22 sq m (236 sq ft), spread over two floors.
Access is gained by steps. Once inside, the ground floor includes a small kitchenette, a dining area, and a bathroom with washing machine, shower, toilet and sink. A ladder is used to reach the sole bedroom upstairs.
As with many prefabricated building companies however, Strawmodul offers lots of different options. Its homes can come in multiple sizes and configurations, and can also be expanded with relative ease by building additional walls, it says.
"We build the extra walls without knocking down the existing ones," explains architect Ilya Shevchenko. "We only demount a straw panel under the window, which is going to be a door opening. We save the demounted window with frame and install it into a new end wall."
The S22 optionally runs off-the-grid with a solar panel setup and a composting toilet, and is bought as a kit starting at US$17,000, which doesn't include the solar panels. Strawmodul told us that it aims to make kits available throughout Europe and the US, though warns that shipping fees and taxes may well increase the price.