3XN builds new headquarters for the Olympics on shore of Lake Geneva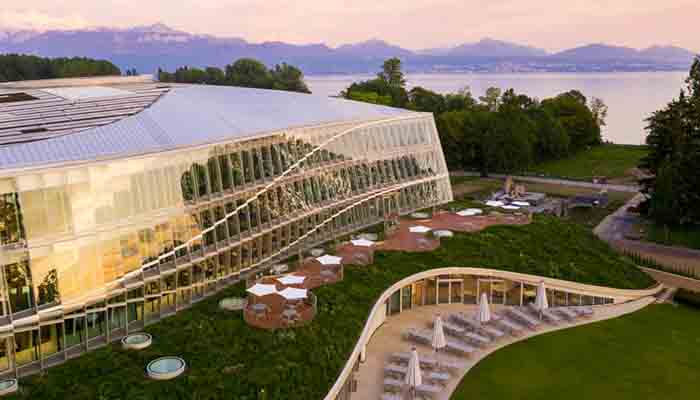 https://www.dezeen.com/2019/06/19/olympic-house-3xn-lake-geneva-lausanne-switzerland/
Copenhagen studio 3XN has completed Olympic House, a new headquarters for the Olympic and Paralympic Games in Lausanne, Switzerland.
3XN collaborated with Swiss architecture office IttenBrechbühl to create the building, which has been designed around the International Olympic Committee's (IOC) principles.
"We designed the building around five key objectives that translate the Olympic movement's core values into built form: movement, transparency, flexibility, sustainability, and collaboration," said Kim Herforth Nielsen, co-founder of 3XN.
Built within a public park on the shore of Lake Geneva, Olympic House stands next to 18th-century castle Château de Vidy. Created as offices for the organisation's 500 staff, many of the building's elements reference the Olympics.
"Every part of the building has a meaning, from the dynamic glass facade that mimics the high-powered athleticism of an Olympic athlete, to the central staircase that references the iconic Olympic rings and the spirit of international collaboration that they represent," Nielsen told Dezeen.
The five-storey building is wrapped in a glass facade, which was created using parametric design – a digital process that allows you to test various design iterations.
Appearing differently from all angles, it is intended to represent the energy of an athlete. It also allows visitors to the park to see inside the building and observe the workings of the Olympic organisation.
"The visual transparency of the building is a metaphor for the new direction of the IOC as they strive towards a greater organisational transparency, reflected in the overall structural changes initiated by the Olympic Agenda 2020," explained Nielsen.
"The glass facade allows the daily work of the building's inhabitants to be visible from the outside, and also celebrates its particular location by providing stunning views of the lake beyond."