Southern Solar Systems adds solar-plus-storage to poultry house for Auburn University experiment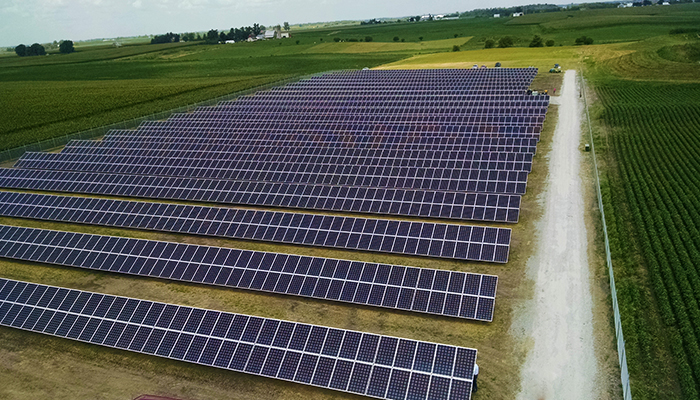 https://www.solarpowerworldonline.com/2019/06/tyson-foods-auburn-university-off-grid-solar-poultry-house/
Auburn University's National Poultry Technology Center (NPTC) and Tyson Foods announced the opening of the largest off-grid solar-powered poultry house. The 54-ft by 500-ft poultry house is located in Cullman County, Alabama, and capable of housing 36,000 broilers. The NPTC's mission is to improve bottom line profitability of the live production sector of the U.S. poultry industry by providing timely applied research and education.
The poultry house will be one of two identical houses on Tim and Selena Butts' farm where 5.5-lb broilers will be grown. One house will be the control house while the other will be operated exclusively by solar power, also known as Stand-Alone Solar for Poultry (SASP).
"Auburn University's NPTC will work closely with Tyson Foods and Southern Solar Systems to provide leadership in the application of solar power technology to broiler production houses," said Paul Patterson, dean of Auburn's College of Agriculture. "The research will provide important, new information on how solar power technology can improve environmental sustainability and profits for farmers."
The house's power will derive from three components: the PV panels, a battery set and a generator. On-site researchers will compare its energy use regularly with the normal operation of the twin house located next door over a 12-month cycle. The data and insights gleaned from this project will be an important next step in identifying sustainable practices and new forms of energy for the poultry industry at large.
"Ultimately, this project will allow us to identify how solar houses might improve farmer profitability and bring increased efficiency to the poultry industry," said Chip Miller, VP of poultry live operations for Tyson Foods. "Through our partnership with Auburn University's NPTC, we are creating a model for the future of the industry — one that is more sustainable and brings critical value and insights, previously unavailable, to poultry farmers."
"The combination of solar and batteries along with the other technologies are converting power to usable alternating current that's identical to grid power," said Dennis Brothers, extension specialist with NPTC. "Electricity drives all functions in poultry houses and is the largest variable cost for poultry farmers. We believe this new system may reduce costs for farmers while increasing efficiency."
"Looking ahead, we are eager to evaluate the efficacy of the solar house and its impact on farmer profitability," concluded Miller. "We expect this pilot to be the first of many, as we continue to leverage the power of collaboration to drive progress in the poultry industry."