Chinese-backed project brightens Philippine village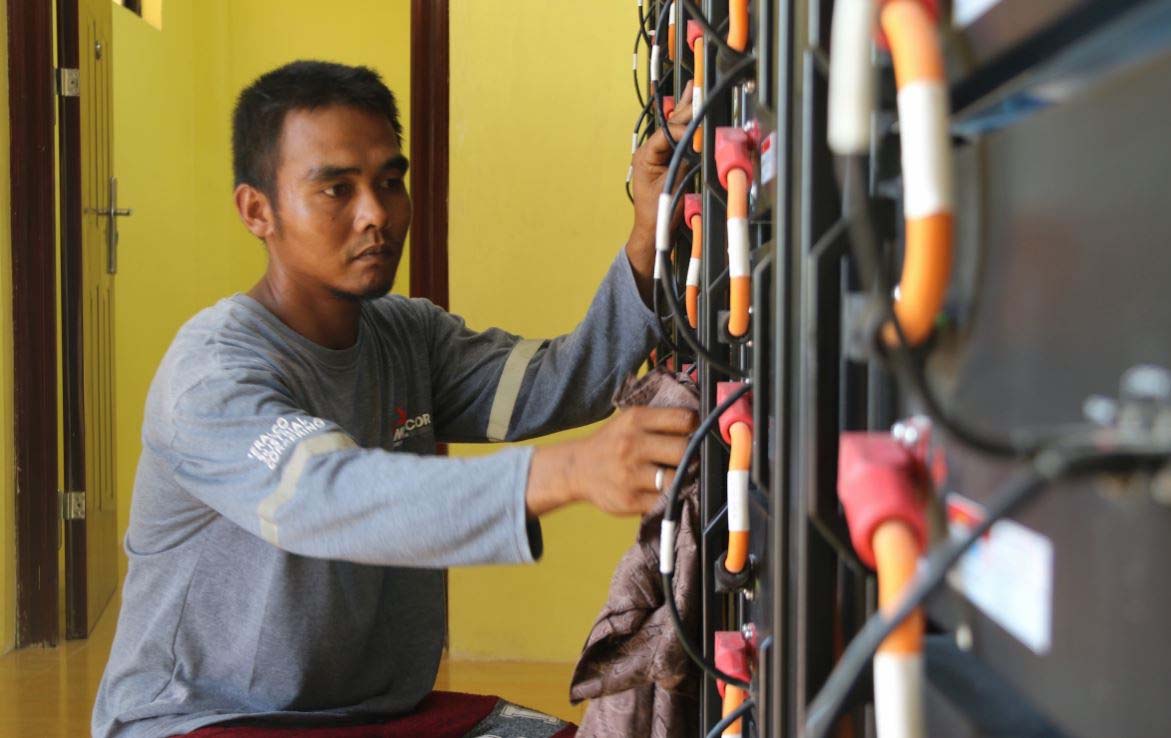 http://global.chinadaily.com.cn/a/201906/13/WS5d019f9aa310176577230e28.html
Solar panel system to be finished this month, bringing electricity to 1,000 rural residents
Baliwet in northern Philippines is less than 200 kilometers away from Manila, the country's capital, yet the remote village in Zambales province has long had no access to electricity-a fate it shares with many other poor rural areas in the country.
Last week, Baliwet residents finally got the chance to have power delivered to their homes, thanks to a solar project launched by State Grid Corp of China, the Philippine National Electrification Administration and the Zambales II Electric Cooperative.
The Brighten Up project aims to install a solar panel system with the capacity to generate 76 kilowatts of energy, providing a regular supply of electricity to more than 1,000 residents and two schools.
"It is a project that aims to provide electricity and communication services to areas that are hard to reach," said Francis Chua, director of power grid operator National Grid Corp of the Philippines.
SGCC is a technical partner and has a 40 percent stake in National Grid.
Chua was among executives who witnessed the signing of an agreement that launched the Brighten Up project in January. It was signed after President Xi Jinping's state visit to the Philippines in November, when he pledged greater economic support for the Southeast Asian country.
Huawei Philippines also committed under the agreement to donate equipment to provide the village with a telecommunication network.
The Brighten Up project is expected to be finished by the end of June. Liu Ming, deputy chief representative of SGCC's Philippines office, said the project cost more than$600,000 and uses solar micro-grid to provide centralized power, according to a report by Xinhua News Agency.
Liu said SGCC will not only install but also operate and maintain the solar panels. He added that it is the first charitable project independently launched by a Chinese-funded enterprise in the Philippines.
Energy analysts said projects like Brighten Up are one way for the Philippines to attain its goal of providing universal access to electricity by 2022.
The Brighten Up project is a "good first step" for small towns or villages like Baliwet to get electricity, according to Gregg Adrian Ilag, energy analyst at Daiwa Securities in Manila.
"This project will improve economic productivity and provide a livelihood to the local community," he said.
Ilag said SGCC and other Chinese companies can also help the Philippines develop its renewable energy sources, since China has shown it has the technology to harness wind and solar energy.
According to the Philippines' Department of Energy and the International Renewable Energy Agency, the country's level of household electrification was 89.6 percent as of 2016. This means that about 2.36 million households have either no access or limited access to electricity.
Harshavardhan Reddy Nagatham, senior analyst at United Kingdom-based business intelligence company GlobalData, said that "on a micro-level, the (Brighten Up) project has a huge social impact", even though the energy that it will generate may be small compared with the country's total electrification needs.
Nagatham hopes such a project will be replicated in other villages in the Philippines, helping the energy department with its rural electrification program.
He said distributed generation, which usually employs small-scale technology and renewable energy sources, is one of the easiest and cheapest ways to provide electricity to far-flung villages in the Philippines and other parts of Asia.
"You can't build a tiny thermal power plant, but one wind turbine is enough to power a small village," he said.