Autonomous Vehicles Policy Gets A Jumpstart In Florida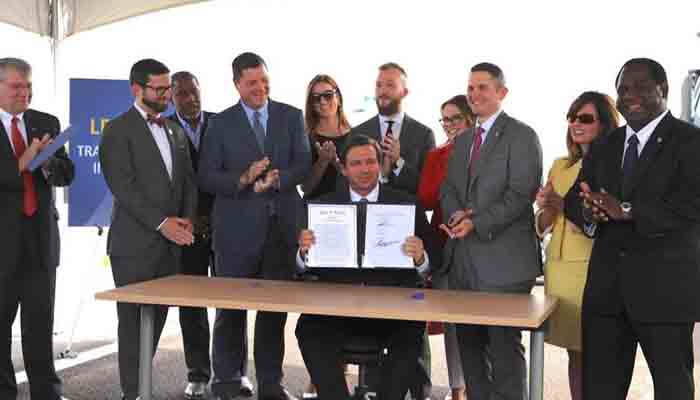 https://news.wjct.org/post/autonomous-vehicles-policy-gets-jumpstart-florida
Gov. Ron DeSantis has signed a bill into law that is expected to speed up the arrival of fully autonomous vehicles in Florida.
The governor's office said Thursday that CS/HB 311 will establish a statewide statutory framework "as we transition to a shared, electric and driverless future."
"I would like to thank the bill sponsors, Senator Jeff Brandes and Representative Jason Fischer, for their work in making Florida the most autonomous vehicle-friendly state in the country," DeSantis said in an email to WJCT News.
Fischer, who represents Jacksonville, said, "This bill on self-driving cars will usher in a new era of smart cities that will not only expand our economy but increase road safety and decrease traffic congestion."
In Jacksonville, the smart city idea is about to move beyond the visioning phase. The city and the Jacksonville Transportation Authority were recently awarded $25 million in federal grant money for JTA's autonomous vehicles plan along with a plan to turn Bay Street into a "smart corridor."
Related: Jacksonville, JTA Awarded $25 Million For Innovation Corridor Projects
Called the BayJax Innovation Corridor, it will eventually feature autonomous electric vehicles, new security features, software and perhaps even solar sidewalks.
JTA is applauding the legislation. "We believe any measure that encourages innovation and provides easier and greater access to newer and safer technologies, such as autonomous vehicles, is good for our riders, our communities, and our economy," said JTA spokesman David Cawton.
JTA recently hired former Amazon executive Bernard Schmidt as JTA's vice president of automation.
The transit agency is testing autonomous "urban circulators," which are self-driving electric people movers, from a variety of vendors with the goal of replacing and expanding the existing Skyway monorail system.
The Skyway's elevated tracks will be retrofitted to accommodate the new autonomous electric vehicles, which will be able to run at ground level onto Bay Street and other areas of the urban core.
"Autonomous vehicles are the way of the future, and Florida is leading the charge through the research, testing and development of autonomous vehicles. And now with this bill signed into law by Governor DeSantis, Florida is ready to lead the nation with this innovative transportation advancement," said Florida Department of Transportation Secretary Kevin Thibault.
DeSantis signed the bill at the SunTrax autonomous vehicle research and testing facility in Polk County.
SunTrax, a partnership betweeen FDOT and the Florida Turnpike Enterprise, has completed an autonomous vehicle test track. It will be the only high-speed autonomous vehicle testing facility in the Southeast, according to the governor's office.
There are five levels of autonomous vehicles, as defined by the Society of Automotive Engineers.  Cadillac's Super Cruise and Telsa's Autopilot are examples of Level 2 autonomous vehicles. They can steer, accelerate and brake in certain highway situations but drivers are still required to remain alert and be ready to intervene.
Automakers and other transportation companies and agencies are pursuing Level 5 autonomy, which requires no human interaction.
Tesla CEO Elon Musk has predicted his electric car company will produce its first fully self-driving vehicles next year as part of a plan to create a network of robotic taxis.