Small Business Spotlight: The Solar Home Factory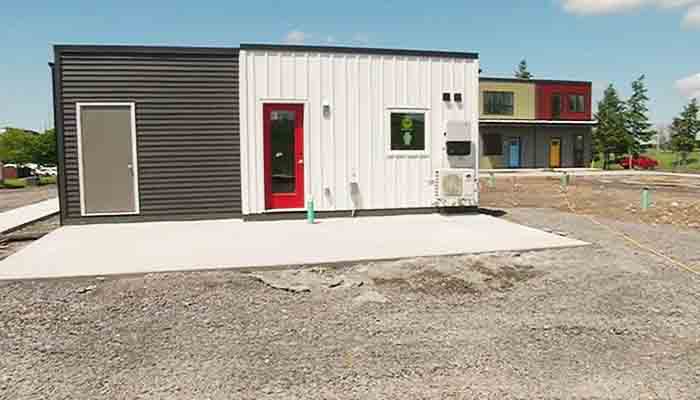 https://www.whec.com/news/small-business-spotlight-the-solar-home-factory/5395618/
GENEVA, N.Y. (WHEC) — Imagine a home so efficient, there is no cost for heat or electricity.
Now imagine you can have one built in less than a month. The Solar Home Factory in Geneva is creating what might be the nation's first solar modular home community.
Ryan Wallace is the company's CEO. Up until a couple years ago, he was selling solar panels but found that many of the homes were not efficient enough to make it worthwhile. That's when it came to him.
"So we evolved to basically build the homes ourselves and build those efficiencies in, and we discovered we could build the solar in the same time," Wallace said.
Outside their factory, crews install the solar panels on the roofs. While indoors, they are working on the lower levels of the two-story modular homes which are about 1000 square feet. The homes are built in a way to reduce the significant need for outside sources of energy — triple pane windows, high-efficiency heat pumps, and walls built from an insulated panel system that keeps the heat and cold from entering.
"And these walls are what allow us to build a net-zero home," said Wallace. "If these walls weren't so efficient, we couldn't have enough solar on the roof."
Building the homes in the factory saves time and money — reducing their costs by about 30 percent.
News10NBC's Brett Davidsen: "How long does it take you to put one of these homes together?"
Ryan Wallace: "So, our first one took us three months. And this one took us three weeks."
Davidsen: "Three weeks you can build a house?"
Wallace: "Yup."
Once completed, these modern homes are then transported to land the company bought from the City of Geneva, right in the heart of downtown just 75 steps from Seneca Lake, through tunnel access.
"When we're done, we'll have 20 homes here and a small multi-family building," said Wallace. "And we are already starting development on another project that would be 25 homes and 72 apartments."
Inside, all the modern conveniences.
Davidsen: "So this is what it looks like when it's all done?"
Wallace: "So this is the exact same plan you saw earlier and it's finished with luxury vinyl plank flooring, quartz countertops, designer cabinets…"
Wallace says the homes provide quality and affordability — ideal for first time home buyers or retirees looking to downsize. Most of the homes in this development are already spoken for. They come in one or two stories and start at $149,000. They offer convenience, low maintenance — and best of all, no energy costs.
Davidsen: "So if I purchase one of these homes, what's my heat and electric bill going to be?"
Wallace: "It's going to be $17.19. That's the cost of being connected to the grid."
Looking ahead five years, Wallace hopes to have 100 employees and expand his factory so he can build 50 to 60 homes and anywhere from 200 to 300 apartments a year.
"There's an exciting potential here to where, as we scale, we could be building entire developments with apartment buildings and homes — the entire village is net zero, so the net over the whole year is zero energy use from the grid."