Victoria first: School trials solar-powered electric car charger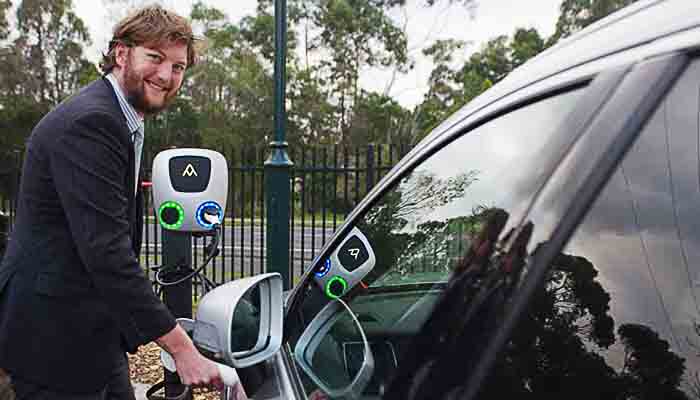 https://thedriven.io/2019/06/17/victoria-first-school-trials-solar-powered-electric-car-charger/
In what is a first for Victoria and possibly Australia, a college in Melbourne's outer eastern suburbs has installed an electric vehicle charger as part of its sustainability program.
The electric vehicle charger is part of a pilot being run by the Beaconhills College, which has 3,000 students and 500 staff across three campuses, to explore the benefits and suitability of switching to electric vehicles in the future as well as present an opportunity to students to study the zero emissions form of transport.
The dual port 22kW Aura charger is made by Swedish ChargeAmp and has the ability to charge an electric vehicle at a rate of up to 100km per hour of charge (depending on the vehicle), and is powered off a 100kW solar system.
"Our Sustainability Coordinator Jack Donkers explored electric vehicle charging options, ways in which we could reduce air pollution around our campuses and how to encourage the uptake of EVs, both at the College and in the wider community," said college headmaster Tony Sheumack in a statement.
"The information the Aura generates will be used in the classroom to help students understand the benefits of electric vehicles and help them be more informed when purchasing a car in future."
Melbourne-based electric vehicle infrastructure specialists EVolution Australia partnered with the college to install the Aura EV charging station.
"We're so pleased to see the uptake of electric vehicles firmly on the agenda for Beaconhills College and we're sure other schools will look to them as a leader in this space," EVolution Australia director Russ Shepherd said in a statement.
"Our research shows that many families are putting off the purchase of their next car in order to wait for the release of new electric vehicles in 2019, such as the Tesla 3 and Nissan Leaf."
"Transport accounts for the second largest source of greenhouse gas pollution in Australia, and emissions are projected to continue to grow up to 2030, so it's vital to curb our use of traditional diesel and petrol vehicles as soon as possible."
Part of a wider environmental strategy that has been under development and implementation for several years now, the EV charging station will be used at first to charge the college's plug-in hybrid staff car with a view to purchasing more EVs in the future.
"We have a fleet of vehicles we use for maintenance as well as buses …. and trucks that we use for outdoor education program," Beaconhills business manager David Young tells The Driven.
"This is the first step in a program over time …. we have an annual vehicle replacement program, and as technology improves and as vehicles become available we want to to have the infrastructure to manage them."
The solar system that powers the charger brings the school's total solar system to 630kW.
This system already provides a substantial amount of the college's energy requirements, with the overall vision of the college of going completely off grid by 2024.
"At the moment this year we'll have about 40% of our energy generated from out own solar technology, and our aim is in five years to be independent from the grid," says Young.
In time, that vision also encapsulates staff and community vehicles being able to charge at the school and then effectively use their vehicle as a mobile battery to take energy home to use.
"Ultimately what we envisage is having a complete station of charging points in our carpark which would be available for staff and community to use and ultimately if that energy is made during the day it can be driven home and used to charge the house."
In the meantime, Young says the charging station is at the school for keeps, and the college will keep an eye open to consider more electric vehicles as price points come down and more available models offer a wider range of options for use.
"We'll keep watching the changes in technology and responding by looking at rolling out additional systems as the price points and benefits are there," says Young.