Tesla Solar Roof: 9 Things You Don't Realize Until You Own One for a Year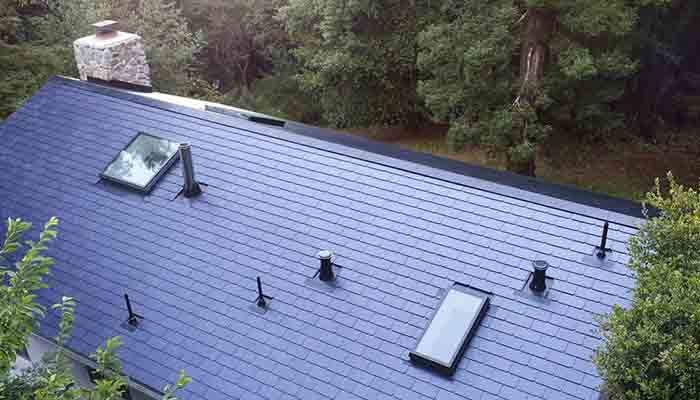 https://www.inverse.com/article/56754-tesla-solar-roof-9-things-you-don-t-realize-until-you-own-one-for-a-year
Amanda Tobler is possibly the world's most extreme early-tech adopter. A year ago, she agreed to let Tesla replace the roof of her house in California, with solar-harvesting energy tiles. Failure could mean her home losing power, her property losing value, or even its contents getting exposed to the elements.
The company has claimed she's the first customer to install the Tesla Solar Roof, which CEO Elon Musk considers part of a fully sustainable future where homes and electric cars run on zero-emission sunlight. Musk claimed at this year's shareholder meeting on June 11 that the company is hopeful it can bring the roof's price down to reach the equivalent of a standard shingle roof plus utility bills. If Tobler's testimony is anything to go by, the roof has a bright future ahead — with some caveats.
"We have no regrets about choosing to install the solar roof," Tobler, who lives with her family in San Jose, California, tells Inverse. "I would say, currently, it is not for everyone, mainly just because of price factors."
For Tobler, installing the roof came down to a perfect storm of factors. The family has lived in the state for over 15 years, and Tobler always wanted to go solar. The house, built in 1965, came with a metal roof that made installing panels impossible. When Tesla's preorder page went live in May 2017, the family opted to replace the aging roof and live their solar dreams.
The solar roof has become an increasingly important product for Tesla. Musk said at the shareholder event that the company is now installing the roof in eight states, and work is almost complete on version three. He added that the design is "actually quite a hard technology problem," and tests need to simulate 30 years of wear and tear in the space of a few months. Musk added that "we have a shot at being equal to a comp shingle roof plus someone's utility costs, or maybe lower than that."
A year after Inverse first spoke with Tobler, she updated us on the things that you only realize after owning a Tesla Solar Roof for a year.
9. Tesla Will Give You a Lot of Attention
Tesla got in touch in January 2018 to finalize the installation process, before installing the roof over a rain-soaked, three-week period. The family officially switched on the roof on March 30, 2018.
That wasn't the end of Tesla's involvement. The team recorded footage and took photos of the installation, and also set them up with a direct representative. Tesla sent a team around to help fix the roof on one occasion. Among the Tesla fan community, the Tobler family became something of a celebrity. Tobler's tweet about the roof received nearly 5,000 retweets.
"Tesla is a pretty polarizing company," Tobler tells me. While there were "lots of super fans" that think "it's amazing," there were also "some people that really are convinced that Tesla is a fraud company, and that we've gotten suckered into buying something." On the more extreme end, Tobler noted that some thought the whole project was "an elaborate sham," and some people "just straight up think that it doesn't actually exist."
Fortunately, the family never experienced any of this negativity in real life. Tobler even got a mention during Musk's presentation at the Tesla annual shareholder meeting in June 2018, quoting her as the "first solar roof customer."
There was just one problem — the house in the photo is not her house.
"I thought it was funny," Tobler says, explaining that Tesla paired her quote with a photo of Tri Huynh's house about 50 miles north. "I don't know if they just got them mixed up."
8. It Is Not Possible to Go Off-Grid or to Ditch Your Energy Bill
The solar roof is a tantalizing financial prospect. The solar-generating tiles cost $42 per square foot, and non-solar dummy tiles cost $11 per square foot. The company recommends a mix of 35-percent solar tiles on a full roof, coming to around $21.85 per square foot.
Tobler's roof measures 2,000 square feet and uses 40-percent solar tiles. That's enough to harvest 9.85 kilowatts of power, and Tesla refused to give them anything larger. Tobler's Tesla Solar Roof was $50,000, which includes a federal investment tax credit.
Seems like a good way to ditch your energy bills, right? Unfortunately, that's not possible. The family needs to pay a small fee to stay connected to the grid, and it's not possible to insist on going fully off-grid during the install process.
Inverse reviewed a redacted version of the family's "true-up" annual report, provided by the Pacific Gas and Electric Company, starting from the bill issued to date May 14, 2018, and ending with the bill issued to date April 16, 2019. The summary shows a year-to-date minimum delivery charge of $119.61. This, Tobler explained, is an unavoidable annual fee for maintaining connection to the grid.