MW-sized solar park for 100% self-consumption in Denmark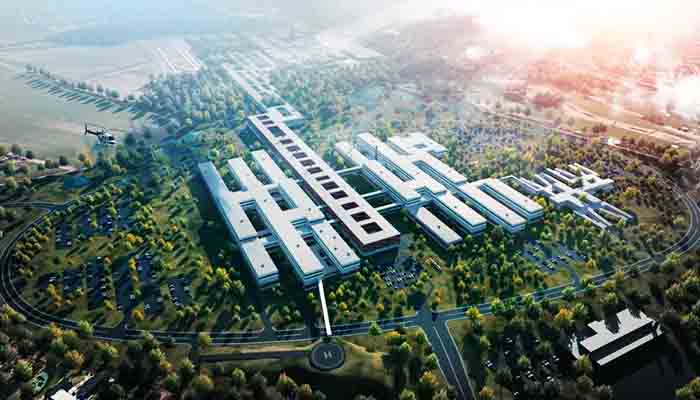 https://www.pv-magazine.com/2019/06/17/mw-sized-solar-park-for-100-self-consumption-in-denmark/
A 4.8 MW solar park, which is being built by Danish developer Better Energy, will cover 20% of total power demand of a new hospital complex in Odense. The energy produced by the plant will be 100% self-consumed.
Danish independent power producer Better Energy is building a 4.8 MW ground-mounted solar power plant for the new Odense University Hospital.
Scheduled for completion in 2022, the new hospital complex will have approximately 20% of its power demand being met by the solar installation. "The energy produced by the plant will be 100% self-consumed," Mohamad Mansour, project leader of Odense University Hospital, said to pv magazine. The 4.8 MW solar plant will be at 2.4 hectares and produce 4,500 MWh a year, which is equivalent to the energy consumption of roughly 900 Danish households, according to Mansour.
"Although the university hospital will be ready in 2022, the solar cell plant will be ready long before. It will supply electricity to the construction site – and then to the hospital," Mansour further explained. "The first power will be delivered by the end of 2019."
Stable prices and cleaner power supply
Better Energy said in its own statement that the project is currently under construction and that was secured through a public tender. "By using solar so early in the building process, the region of southern Denmark sends a powerful statement to the community that solar energy is a cost-effective and sustainable solution for the entire life cycle of a building project," said Better Energy's Nicolai Faaborg Andresen, who is responsible for the company's product solutions.
Andresen also explained that this is its first time seeing a requirement for solar energy to power a construction site in a public tender. "Solar energy is a logical choice to protect tight public budgets from price fluctuations and reduce carbon emissions for cleaner, more resilient communities," he stated.
"We can offer the best of both worlds – direct production or direct purchase – of clean electricity generated by a specific solar project. Both options are cost-competitive, and both options are directly associated with actual new energy projects," said Better Energy CEO, Rasmus Lildholdt Kjær.
The direct purchase option is the one chosen by the company to provide a 125 MW solar project for powering Danish clothing company Bestseller. This was ordered by Bestseller's parent company, Heartland, and construction would start next year.
The plant, when completed, will be the first subsidy-free plant in Denmark and its largest in generation capacity.